Time for our December progress report!
With a lot of the devs having to deal with finals this month on top of the holidays, we went into this month expecting it to be a bit sluggish work-wise. Despite that, we got a modest amount of work done on all fronts. Unfortunately we didn't have time to fully edit the demo writing to something we'd deem acceptable for feedback like we originally planned, but there was still progress on the writing side, both in terms of general editing as well as writing past the demo's 20 scenes. We didn't work as fast as normal, but make no mistake that we did make a good amount of progress this month, and we expect the output to increase once we get out of this busy time of year. We've got a schedule and roughly know when we want to put the demo out.
Given the holidays, we wanted to end this post with a few presents for you. To start things off, we'd like to reveal the fact that the VN starts out in the Fall semester and moves into Winter at the end of act 1. Part of the reason we ended up sticking with Salt Lake City was the snowy climate, and we can't wait to show it off. Naturally, moving into Winter also means a good part of the VN will take place outside of a school environment/ atmosphere.
We wanted to end this post with a handful of goodies, the first of which is a joint-effort picture between All-Maker and Twrlare: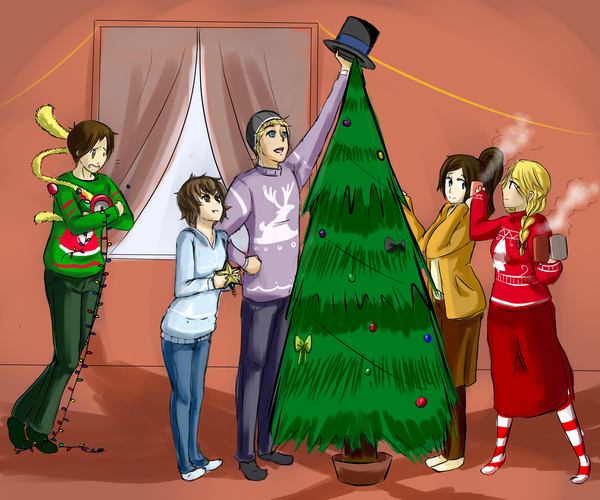 Our second surprise is a set of Winter-themed stories! This will be our first non-April-Fools showing of these characters, and we hope you enjoy them.
[Caprice's Snowman](//salty-salty-studios.com/special/2013/caprice.html) • [Mekki's Christmas Lights](//salty-salty-studios.com/special/2013/mekki.html)
And our final surprise is that accompanying the writing are three Winter-y music pieces for you to enjoy! You can download them here.
We hope you enjoyed this month's update. Have a great holiday!