We ended up breaking our monthly update rule recently due to some unrest caused by recent changes in Twofold's staff. As we mentioned previously, we had to separate with Mehkanik due to scheduling woes, leaving All-Maker in charge of writing Twofold. Unfortunately, we also had to part with our long-standing sprite artist, Twrlare, and his assets will no longer be part of Twofold itself moving forward.
Our initial pitch of First Snow is that it made sense for us to work on, as it would share the majority of its art assets with Twofold, while being written by Suriko. While this is no longer fully the case, the good news is that the sprites necessary to finish First Snow have already been completed, so there won't be any significant delays in getting it out the door.
This also gives us a decent enough grace period to establish a backup plan for Twofold, which we've started working on. We've been in contact with one or two people in regards to picking up sprite duty for Twofold, and we have a pretty good idea how to move forward. We don't want to announce anything yet until we have something to show you, so hopefully we can finalize something on that end and share it ASAP.
This has been a pretty stressful period and starting over from nothing in regards to Twofold sprites isn't great, but if we plan things well we should be able to pick ourselves up fine.
So, with First Snow sprites finalized, let's move on to other asset matters!
The First Snow script has been done and finalized for a few months, though recently we did a quick pass through it to remove any references to Salt Lake City. We were already being liberal with the VN's geography and features, so it made more sense to break free from namedropping anything specific. Naturally, this will apply to Twofold itself as well.
James can turn a song around really fast if something is requested, so we have zero worries in regards to music. Directing, at the time of writing, is wrapping up work on act 2. First Snow has three acts, for reference. Backgrounds are coming along at a steady pace, though Curchack does occasionally take breaks to color other assets or produce cut-in graphics like the one shown in the last blog post.
Twofold's writing situation has been going well, CG rush considered. We've done another pass on Mehk's existing writing and have a pretty solid idea of where to take it from here. Theres been several group meetings where we've focused on establishing what we want the core focus to be, as well as refining Oliver's personality from our super super super old demo.
Here's some thoughts we've had and examples to the changes or additions we're making to put them into actions:
Oliver's personality in the demo was established as "antisocial jerk" but some of his interactions felt sort of flimsy (hating interacting with people and then initiating conversation with Wallace, seemingly disliking women in general and then openly flirting with Mekki). We went back to the drawing board and decided that the Oliver that we want to solidify and stick with is a pessimist and has a general negative opinion on most things, but isn't necessarily antisocial. We also want to establish his independence as a notable character trait, how he's largely capable of caring for himself. We decided to cut the character Izaac to emphasize this, along with the fact that Hayley contributed similar things to him which made him feel redundant.

We also want to start focusing on the theme of family and establish some sympathy for Oliver early on, rather than waiting until after a club is chosen. As an example of how we're approaching this, we've reworked the opening of the VN. The hike up to the campus and the counselor interaction have been removed entirely, and instead the VN starts with Oliver having a conversation with August. We think this starts the VN off on a better foot, since you'll get a glimpse of Oliver with his guard down almost immediately. Having August be around so early allows us to use Oliver's relationship with his mom more effectively in the rest of the story.

The premise at the start of the VN has always been Oliver having grade problems, and that's still the case. However, the real meat of the story comes after that is established and largely resolved. While there's no solid examples of how we're going to accomplish this yet, we want to dampen Oliver's doomsday attitude towards his situation. Instead, we'll move the spotlight onto the things relevant to the core of the story (family and the importance of the arts to the characters).
Finally, CGs. Everything in First Snow has at least one base sketch and initial lining done, and the majority are completely finalized in terms of their line art. Since All-Maker is writing Twofold's script, we've tried to streamline the CG creation process by having Skrats help with the initial sketches, which either reduces or eliminates the need for redlines in most cases. Wrapping up CG lining is our number one priority right now, so that All-Maker can dedicate his full focus to writing, instead of splitting attention between the two VNs.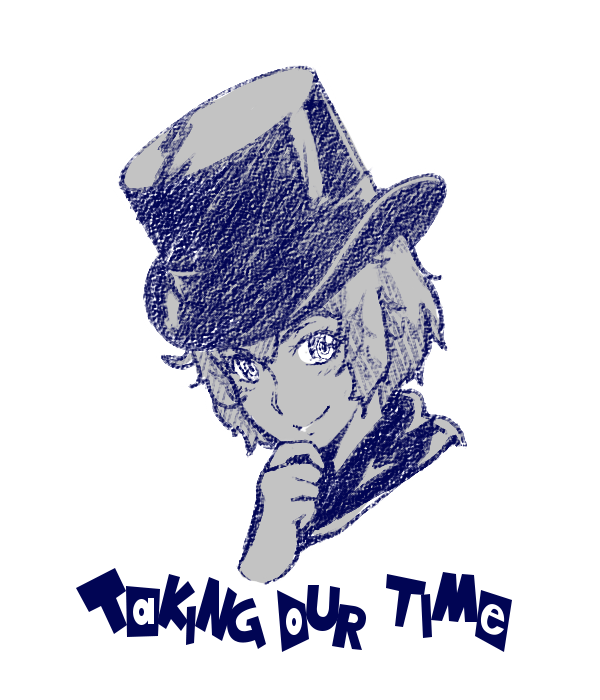 Woo, this was a big one. While some things might seem shaky, please continue to wait warmly and we'll continue to try our best. We tried to make this post as large and detailed as possible so everyone can get a good grasp of where we are. It's not the end of the world just yet!
If you have any questions, ideas or comments, please drop them somewhere, either in the comments, on Twitter or Discord, or wherever. Until next time!