Happy new year everyone, sorry for the wait! We're pleased to announce that as of immediately, the partial voice update for First Snow is now available on Steam, itch.io as well as directly from our website.
The update is entirely free and, if you own the game on Steam, should download automatically! If you're using the other two platforms, the update is baked into the game itself so you'll just be downloading the game again.
We've put a lot of time and effort into this update, so we hope you enjoy it, whether you're returning to the story to check out the update or if you're experiencing it for the first time. Furthermore, First Snow merch is now available from the Studio Élan store which you can access here. Imagining ever getting the opportunity to do something like this would have been unreal way back when we started, so it's super exciting for us!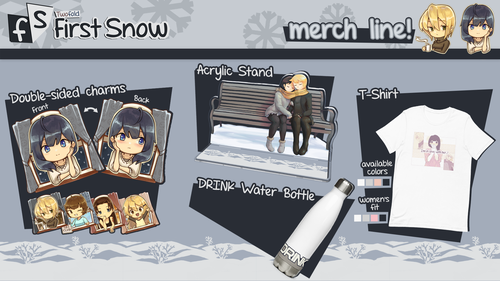 And with that, our long First Snow journey is over (assuming we don't need to push out a bug fix….fingers crossed!!!). Thanks for walking this road with us, and we hope to see you again soon so we can start working toward wrapping up that other loose end of ours…