Hellllllo everyone!
It's been a fairly large amount of time since our last real update. As we expect another long period of time before our next large post, we want to give you a sort of stop-gap until the end of the year or so. Of course, Paper Trail will still have smaller updates and the like, so please keep visiting if you enjoy those!
To start with, writing is probably one of the things we've kept under wraps most for the past year: it's been a mixed bag with a lot of ups and downs in terms of progress and the approaches we've taken to it. A large focus for us right now is eliminating a lot of the fat that's sort of built itself up, so we've been working on trimming the size of the script down quite a bit. Along the way things got a little muddy in terms of story direction, so we're hoping that cleaning everything up will help us get the writing out faster and better. In general, writing progress has been the largest struggle we've had to face, but things recently have been lookin' up and going in the right direction.
After the demo released we said we planned to move to a new engine. It's still being worked on, but there's not much to report on publicly for now. Shiz has shown interest in writing some Paper Trail posts about its design though, so if that's your kinda thing, keep an eye on that front! Alongside its development we're still internally using Ren'Py for builds and tryouts for the time being, so we're able to stay productive on all other fronts and don't stall.
As a side-note, our team has grown a tiny bit over the past year, and new people are doing some really cool stuff. Secret stuff. Can't talk much about that either yet, but it's neat.
All in all, the past few months have been sort of large for us, but nothing exciting to talk about publicly… yet. We hope to have something cool to show you around the end of the year but until then, we'll end this post with some asset work to digest.
First off, since some of you have been asking, here's a sample from the post-demo OST! We've been putting our new addition to work and after some initial adjustment and tuning, we think it matches our style really well.
And secondly, a background for the second half of the VN, which will take place in winter time! We hope to provide a nice comfy atmosphere during key parts of it.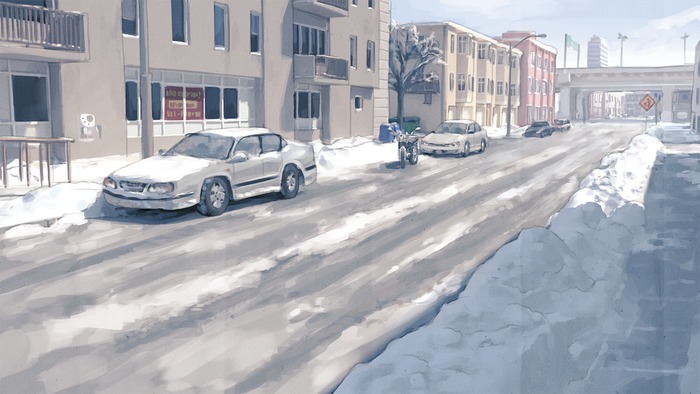 Soo, that's about it for today. 'Til next time!